Warehousing and logistics solutions to scale e-Commerce Business
When we talk about supply chain management, warehousing and logistics solutions play a vital role. If you're an eCommerce business and wish to explore Warehousing and logistics solutions, we'll show you their immense benefits. Discover how these solutions can transform your operations and enhance your business. Additionally, explore how warehousing takes care of your products, handles them efficiently, and prepares them for the send-off. We'll also talk about logistics which involves strategic planning, executing the plan, and keeping a hold of all the goods, services, and information.
What is Warehousing?
Warehousing plays an essential role in supply chain management, managing various activities such as storing and handling goods. Efficient inventory management involves securely storing products while keeping them available for quick delivery. Furthermore, this ensures streamlined operations and customer satisfaction.
The focus of warehousing is also on maintaining the quality of products and maintaining an appropriate storage condition to keep the products as they are. We facilitate the order fulfillment process by organizing and preparing the goods for shipment.
It also helps streamline processes such as picking, packing, and shipping by reducing the chances of errors while increasing efficiency. Through our real-time tracking systems, Fulfillment Plus can provide you with better visibility and warehouse controls, leading to improved customer services and reduced operational costs.
Warehousing enhances customer satisfaction and business performance by optimizing storage space and streamlining operations to enable the smooth flow of the supply chain.
Types of Warehouses
When it comes to supply chain management, warehouses are like the powerhouse that keeps everything running smoothly. Let's get to know the different types of warehouses you can come across:
Distribution Centre: A distribution center is a hub for receiving, storing, and distributing goods. It is the central point of contact to coordinate inventory management and order fulfillment across multiple locations.
Public Warehouse: Public warehouses provide storage and handling services to various companies on a rental basis. These facilities enable companies to use these warehouses and minimize the need to invest in individual warehouses.
Private Warehouse: Individual companies own and operate their private warehouses. Offering its unique storage and distribution facilities, giving businesses complete control over inventory management and supply chain activities.
Bonded Warehouse: Customs authorize these warehouses for storing imported products. They enable businesses to delay payment of customs duties until the products are ready for sale or distribution, giving them financial flexibility.
Climate-Controlled Warehouse: Companies use climate-controlled warehouses to maintain precise temperature and humidity levels, protecting the quality and integrity of temperature-sensitive goods such as food, pharmaceuticals, and other perishable items.
Smart Warehouse: To improve efficiency and accuracy in inventory management, order processing, and shipment tracking, smart warehouses utilize automation, the Internet of Things (IoT), and robotics. These warehouses increase operational productivity and provide real-time inventory visibility.
Consolidated Warehouse: Consolidated warehouses collect products from several suppliers or manufacturers and store them in a single location. By combining goods and maximizing space utilization, this technique minimizes transportation costs and streamlines the distribution process.
Importance of Warehousing
Warehousing plays a vital role in supply chain management offering its various advantages to businesses to keep the the flow smooth.
Reasons why it is essential for your business:
Inventory Management: To manage your inventory efficiently and store goods, warehousing makes it possible for businesses. It provides an area where goods can be stored safely, organized, and tracked. Through this companies can have better control over their stock levels, and monitor the availability of products.
Risk Mitigation: A safe and secure location is provided by warehouses to keep the products in good condition, and protect them from damage, theft, and any unfavorable environmental conditions. To ensure the quality of the products stays as is, they also implement safety measures, such as surveillance systems, access controls, and climate control systems.
Smooth Operations: Warehouses within the supply chain facilitate a smooth flow of goods. Additionally, they act as the middlemen between suppliers, manufacturers, and customers, to enable efficient coordination and flow of goods. Allowing faster services such as pick, pack, and ship, streamlines order fulfillment by consolidating and storing goods. This improves overall operational efficiency and customer satisfaction.
Seasonal Demand Management: During demand, businesses are enabled by warehouses to manage seasonal fluctuations effectively. When the demand is low, extra stock can be stored in the inventory and can be used once demand rises. Due to this, stock shortages during peak seasons do not arise, and a steady supply of products can be achieved to meet customer requirements.
Cost Savings: Cost savings in the supply chain can be achieved through efficient warehousing practices. When goods are stored in bulk, it makes it possible for companies to scale economies and negotiate better pricing with suppliers. Transportation costs are also reduced through warehousing by consolidating shipments and optimizing delivery routes. Additionally, if the warehouses are strategically located, it minimizes transportation distances and related expenses.
What is Logistics in Supply Chain Management?
The coordinated planning, implementation, and control of the flow and storage of goods, services, and other related information from the origin to the end of consumption is referred to as logistics. Furthermore, it plays a pivotal role in optimizing supply chain management and ensuring a seamless journey for products and services.
To ensure efficient product flow, a logistics management system involves multiple activities such as transportation, warehousing, inventory management, packaging, and order fulfillment. Effective logistics management provides timely delivery, reduces costs, enhances customer satisfaction, and optimizes overall supply chain performance.
It is important to connect suppliers, manufacturers, distributors, and customers, thus facilitating smooth operations to maximize the value throughout the supply chain. Additionally, this interconnected network ensures efficiency and satisfaction at every stage of the process.
Types of Logistics
When it comes to supply chain management, logistics is the key factor to it. It comprises specialized areas that deal with different stages of a product's lifecycle. Let's look at these five types of logistics that play a crucial role in supply chain management:
Procurement Logistics: It involves acquiring raw materials, components, and supplies needed for production. It also includes sourcing, supplier selection, negotiation, and transportation of materials to the manufacturing facility. Effective procurement logistics ensure a reliable and efficient supply of inputs to support production.
Production Logistics: Production logistics focuses on the efficient flow of materials within the production facility. It involves inventory management, production planning, scheduling, and material handling. The aim is to optimize the production process, minimize any obstacles, and ensure that the materials are available at the right time and resources for manufacturing operations.
Sales Logistics: Sales logistics involves managing the distribution of finished products from the manufacturing facility to customers. It includes order processing, transportation, and delivery to various distribution channels, such as wholesalers, retailers, or directly to end consumers. The sales logistics goal is to ensure accurate order fulfillment, timely delivery, and customer satisfaction.
Recovery Logistics: Recovery logistics or reverse logistics, efficiently handles product returns, repairs, or recycling. It involves product retrieval, inspection, repair, refurbishment, and proper disposal or recycling of items. Effective recovery logistics help minimize waste, optimize product value recovery, and comply with environmental regulations.
Recycling Logistics: Recycling logistics focuses on collecting, transporting, and processing recyclable materials. It involves managing the logistics of recycling programs, including the collection of recyclables from households or businesses, their consolidation, transportation to recycling facilities, and coordination with recycling partners. Recycling logistics supports sustainable practices by diverting materials from landfills and promoting resource conservation.
Importance of Logistics
Here are some notable reasons why logistics is absolutely essential:
Timely Delivery: Logistics is essential for ensuring the timely delivery of products to customers. By coordinating transportation, warehousing, and distribution, logistics minimizes delays and promptly ensures that goods reach their intended destinations. Timely delivery satisfies customer expectations, strengthens business relationships, and fosters a positive brand image.
Market Expansion: Logistics facilitates market expansion by enabling businesses to reach new geographic locations. Companies can tap into new markets and serve customers in different regions through effective transportation and distribution networks. By expanding their reach, businesses can increase sales opportunities, gain a competitive edge, and fuel overall growth.
Operational Efficiency: Efficient logistics management enhances overall operational efficiency within the supply chain. By streamlining processes, optimizing inventory levels, and synchronizing activities, logistics minimizes the stoppage of supply chain processes and reduces the wastage of time and resources. This leads to improved productivity, reduced costs, and enhanced profitability.
Customer Service Improvement: Logistics plays a significant role in enhancing customer service. By ensuring the availability of products at the right place and time, logistics minimizes stockouts, avoids overstocking, and facilitates efficient order fulfillment. This leads to improved customer satisfaction, increased customer retention, and positive word-of-mouth referrals.
Supply Chain Collaboration: Logistics fosters collaboration among various stakeholders in the supply chain. Effective coordination between suppliers, manufacturers, distributors, and retailers ensures seamless information sharing, efficient inventory management, and optimized transportation. Collaboration improves communication, reduces lead times, and improves overall supply chain performance.
Cost-Effectiveness: One key advantage of using third-party logistics is cost-effectiveness. By outsourcing logistics operations to specialized third-party providers, businesses can avoid significant investments in infrastructure, equipment, and technology. Instead, they can leverage the expertise and existing resources of the warehousing and logistics companies, allowing them to achieve economies of scale and reduce overall operational costs. This cost-effectiveness enables businesses to allocate their financial resources more efficiently and focus on their core competencies, leading to improved profitability and competitiveness in the market.
Warehousing vs. Logistics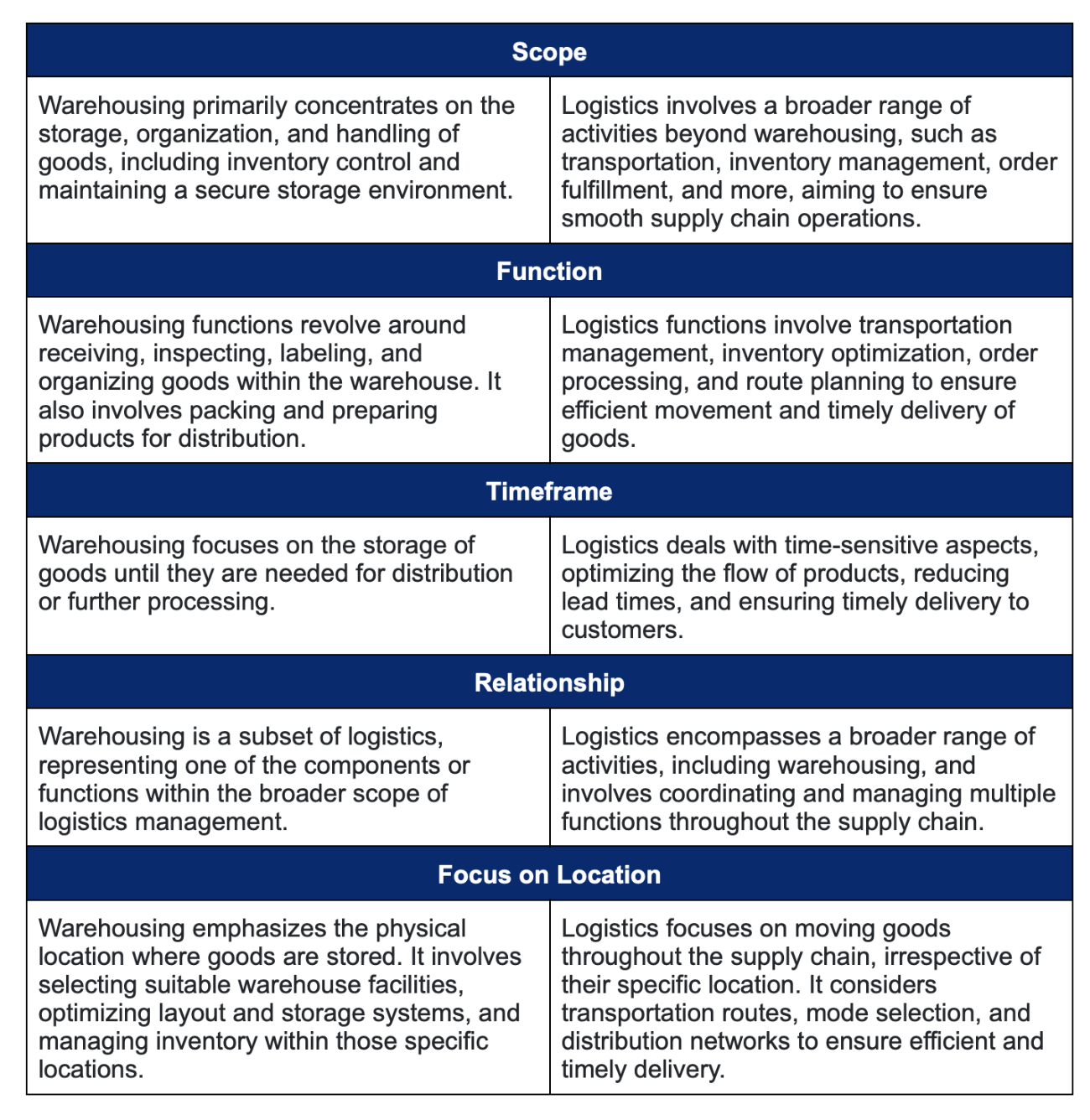 Warehousing and logistics solutions go hand in hand and in today's modern and fast-paced fulfillment industry, it becomes necessary to use warehousing and logistics solutions from a trusted fulfillment partner. They are the backbone of modern eCommerce that enables businesses to meet customer expectations and any challenges faced in a rapidly evolving market.
This is why a reliable and trustworthy fulfillment partner is required to fulfil all your warehousing & logistics solutions.
This is where Fulfillment Plus comes in, we have 40 years of experience in the fulfillment industry catering to every need of eCommerce businesses. We have handled and managed all sizes of businesses and helped them achieve their customer success goal.
Your Trusted Fulfillment Partner | Fulfillment Plus
Fulfillment Plus offers unforgettable customer experiences, utmost reliability, customer satisfaction, and a 99.8% accuracy rate in delivering the goods to the customers on time.
All your warehousing and logistics solutions can be fulfilled once you choose to partner with us.
We guarantee trust, transparent visibility of all warehousing and logistics processes, and best-in-class packaging of goods to provide your customers with the best unboxing experiences.
For more information get in touch with us at 888-256-7790.